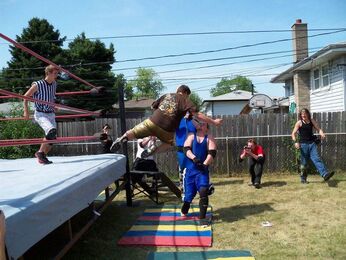 Shawn Jovi is a backyard wrestler from De Pere, Wisconsin. He debuted on August 31, 2006 in a trampoline based federation called Insane Championship Wrestling. Since then, he won multiple local world championships and even once held the GBYWN World Pure Championship. He also owns Ronus' Championship Wrestling and also wrestles for Neighborhood Wrestling Federation and Midwest Wrestling Alliance when he can. However, with RCW out of business, Shawn is only a part time yarder now and usually only wrestles a few shows a year.
The Early Years of Shawn Jovi (2006-2008)
Edit
Shawn debuted in ICW, a local trampoline federation on August 31, 2006 against "The Korean Enigma" Dudezik and Juggernaut (Now known as Rex Renegade). A few months later Shawn and ICW's owner, Mr. Insanity could not come to terms with a contract and Shawn was released from the federation. In the Spring, Shawn shocked everyone and opened a federation of his own called Ronus' Championship Wrestling (RCW). Shawn wrestled in RCW until it became indefinitely inactive in 2012.
The Global Backyard Wrestling Nation (2009-2010)
Edit
In 2009, Shawn began discovering other backyard federations including Indiana Championship Wrestling, a federation he was quite fond of. After getting in contact with some of their roster, Shawn learned about the GBYWN Forums and was very active on the site. In July 2009, Shawn finally got to do what he wanted to do. He travelled to ICW in Indiana and wrestled in his first Supershow during the GBYWN vs. ICW feud. Shawn went to ICW in hopes to destroy it and make it his own which caused Shawn's greatest rivalry to date with King BW. He also had rivalries with Mike Creston for the GBYWN World Pure Championship, Matt Massacre, Zaq Cass, Rad Hazard and multiple others. In 2010, Shawn took a temporary leave from Backyard Wrestling as he walked away as GBYWN World Pure Champion shortly after RCW went inactive. A few months later, Shawn returned at CCW Showdown and has been wrestling part time ever since.
Modern Times (2011-Present)
Edit
After attempting to resurrect RCW in early 2011, Shawn realized he couldn't get the job done and was near retirement. However, he found out about a federation consisting of multiple midwest wrestlers known as the Midwest Wrestling Alliance. Shawn made his debut in August of 2011 against Zaq Cass and then against TwistedOutkast the very next day. Shawn is now associated with MWA and has planned on staying with MWA part time until he retires. Shawn made a statement early on in 2013 that he desired one more shot for glory and now has his sites set on the newly announced GBYWN United States Internet Championship.